EARLIER RELEASE NOTES FOR WEBROOT SECUREANYWHERE
---

Please choose from the release notes listed below:
PC build 9.0.35.12 (Released May 30th, 2023)

Updated

UI references to Identity Shield and Identity Protection are now Privacy Shield and Privacy Protection
Text for terms and conditions information on the installer screen
Scan engine to detect the latest threats
---
PC build 9.0.34.54 (Released February 27th, 2023)

Updated

Microsoft service protection enabled by default

Fixed

System crash that can occur at reboot to remove malware
System crash that can occur when journaling changes to a file in a network location
Inadvertent IPM tray message redisplay
---
PC build 9.0.33.35 (Released September 19th, 2022)

Updated

Compliance with Microsoft requirements for anti-malware products
License swap behavior

Fixed

Update to incorrect C:\Program location
Uninstall flag not sent to backend systems
Phishing Shield state when disabled via Web Threat Shield
---
PC build 9.0.32.58 (Released April 19th, 2022)

Updated

Hardened malware removal to avoid interference with legitimate applications.
Compliance with Microsoft requirements for anti-malware products.

Fixed

Interference with VPN when Webroot is active.
Misidentification of Windows 11 systems as Windows 10 systems.
---
Web Threat Shield Edge extension 2.0.22053.1 (Released May 9th, 2022)

Updated

Improved information and new OpenText branding on the extension settings page.
Enhanced telemetry.
Dynamic Real-Time Anti-Phishing for standalone mode.
Web Threat Shield FireFox extension 2.0.22062.1 (Released May 8th, 2022)

Updated

Improved information and new OpenText branding on the extension settings page.
Enhanced telemetry.
Dynamic Real-Time Anti-Phishing for standalone mode.
Web Threat Shield extension Chrome 2.0.22053.1 (Released March 1th, 2022)

Updated

Improved information and new OpenText branding on extension settings page.
Enhanced telemetry.
Dynamic Real-Time Anti-Phishing for standalone mode.
---
PC build 9.0.31.84 (Released September 28th, 2021)

Updated

UI logo and branding to include OpenText.
Text on Backup screen.

Fixed

Additional fix for issue where Chrome does not load with the Identity Shield enabled.
Bug fixes.
This is the final build provided for Vista systems. Vista systems will not be updated to any later versions.
---
---
PC Agent version 9.0.30.71 (Released March 15th, 2021)

Updated

UI text updated to Allow and Allow List.

Fixed

Fix for issue where Chrome does not load with Identity Shield enabled.

Additional fixes coming in 9.0.31.x for those systems where Chrome issues persist with 9.0.30.71, 9.0.30.72, and 9.0.30.75.

Bug Fixes.
---
---
---
---
---
---
---
---
---
---
---
---
---
---
---
---
---
---
---
---
---
---
---
---
---
---
---
PC Agent Version 9.0.24.37 (Released November 7

th

, 2018)

Added

Support for ELAM (Early Launch AntiMalware) Driver.
System Analyzer updates.
Support for Windows 10 RS5 update.

Fixed

Issue with XP networking found in 9.0.24.28
Addressed network share slowness issues.
Other bug fixes​.
---
---
---
---
PC Version 9.0.21.18 (Released July 12

th

, 2018)

Added

Library used with SHA256 operations.
Supports upcoming features in Windows 10 RS4/RS5.
Improvements to heuristic detection methods .

Fixed

WSA execution errors on Windows 10 (bootcamp), Server 2012/2016.
InfraRed Heuristics detections & remediations files with no cloud response.
Issues to improve resource management.
WSA crash on updating configuration during exit.
False Positive Rootkits Win10 (Webroot detects Windows 10 services - Windows Apps).
Issue with System Analyzer hanging on launch​.
---
---
---
---
Version 9.0.19.36 (Released January 9th, 2018)
Updated

Enables Registry key to allow Microsoft's Jan 3rd Update.
Improvements to agent upgrade process.
Reduce occurrence of false positive detection of Windows 10 rootkits.

Fixed
---
---
---
---
---
Version 9.0.17.24 (Released June 12th, 2017)

Added

Ability to uniquely scan files based on the SHA256 hash value to better detect highly targeted MD5 file hash + size clash scenarios.
Added SHA256 file hash calculation to the agent log files.

Fixed
---
---
---
---
---
---
---
---
---
---
---
---
---
---
---
---
---
Version 9.0.7.42 (Released December 14th, 2015)

Added

New method for differential feature activation.
UI enhancement for EULA reacceptance.

Improved

Provide relevant in product messaging after a license swap.
Hardened service start.

Fixed
---
---
---
---
---
---
---
---
To be compatible
with the release of Windows 10, we are releasing our SecureAnywhere 9.0 version. Should you be considering upgrading to Windows 10, we would strongly recommend updating your SecureAnywhere version to our 9.0 release if you do not have automatic updating in place. This will ensure that when Windows 10 is released on July 29th, your security will be compatible with the upgrade.
Version 9.0.0.64 (Released June 29th, 2015)

Implemented

Correct OS version reporting for Windows versions 8.1 and above.
Windows 10 compatibility.

Improved

Path normalization for Internet Explorer cache paths.
Further scan engine improvements.
Aligned agent states.

Fixed
---
.
---
---
Version 8.0.8.53 (Released March 23rd, 2015)

Updated

Simplified and automated the process to switch from one specific build to another.
Enabled Suppression of certain tray messages once the message is acknowledged (closed or button pressed).

Enhanced

Protection Messaging.
Cloud detection logic.
Detection and remediation of malware running in memory.
---
---
---
Version 8.0.7.26 (Released January 31st, 2015)

Added

Additional PE data points.
Streamlined build configurations for specific partners.

Updated

System Analyzer for Business.
Copyright date in UI.
Further scan engine improvements.

Fixed

Scan issue over very large files.
Issue with URL handling in Chrome.
---
---
Version 8.0.6.28 (Released December 9th, 2014)

Enhanced

Journaling and rollback for very large change journals.
Console data set.

Added

Support for new web filtering rollout.

Fixed

Conflict with Kaseya remote keyboard.

Improved

LSP chain repair during remediation.

Updated

User Interface for tray messages.
Further scan engine improvements.
---
---
---
---
---
---
---
---
---
---
---
---
---
---
Version 8.0.4.61 (Released February 21st, 2014)

Fixed

Compatibility with Hyland Software applications.
Compatibility with some instances of Google Chrome.
Warning about some Citrix components

Improved

Stability when analyzing system changes.
Text layout for some localized environments.
Proactive Cryptolocker blocking
---
Version 8.0.4.57 (Released February 13th, 2014)
Fixed

Minor UI issues with Backup & Sync.
Handling deactivate commands from the console.

Improved

Scanning folders on network drives.
Detection for the Expiro virus.
Compatibility with AdBlock.
Locking keycode changes when centrally managed.
Generic blocking of threats like Cryptolocker.
---
Version 8.0.4.46 (Released January 14th, 2014)

Fixed

Delaying the system shutdown on Windows Server 2003.
Installing the agent when no user is logged in.
Reduced the CPU impact of file infector scanning

Improved

Protection against untrusted BHOs.
Protection against Cryptolocker.
Generic protection against threats attempting to steal user information.
---
Version 8.0.4.42 (Released December 3rd, 2013)

Fixed

Updating the language file.
Password management support in Internet Explorer 11.
Executing new agent commands sent from Management Console.

Improved

CPU usage is reduced during scans.
Registry reading performance when under high contention.
Detection of script viruses.
Speed of uninstallation.

Implemented

Automatic cleanup of old rollback data.
Days remaining under My Account are hidden when the keycode is hidden.
---
Version 8.0.4.24 (Released October 30th, 2013)

Fixed

The login screen now shows if the user is deactivated in Backup & Sync.
Backup settings are retained when logging in as a different user.
Compatibility with MalwareBytes AntiExploit.
Minor graphical fixes.

Added

Hardened the scan progress against active rootkits.
Hijacked desktop backgrounds are now reset automatically on Windows XP after the cleanup completes.
Detection for a new set of VBScript threats.

Improved

Scanning of locked files.
Cleanup of active threats to avoid reboots.

Changed

"Support/Community" to "Help and Support" for localized languages.
---
Version 8.0.4.17 (Released October 3rd, 2013)
Implemented

More than 4,000 improvements throughout the product, significantly enhancing all areas of protection, usability, and the core functionality.
A fresh new UI which makes important features easily accessible.
New Realtime Anti-phishing which blocks phishing websites even if they are only seen by a single user.
New Webroot Infrared which blocks advanced persistent threats with a multi-layer defense engine.
Simplified configuration options across the product, making it easier to use and set up.
Automatic adaptive installation custom tailoring Webroot to your system as it installs.
Improved malware cleanup and detection throughout the product.
Lighter footprint, reducing memory, CPU, and disk resource requirements.

Added

Proxy configuration options pre-install.
Context sensitive help throughout the UI.
Handling for PUAs.
Access to Backup & Sync from within Windows Explorer.
Compatibility with Windows 8.1.

Fixed

Compatibility with other security solutions and third party products.
UI performance on lower end graphics cards.
---
---
Version 8.0.2.174 (Released August 27th, 2013)

Improved

Stability on Windows 8.1
Compatibility with receiving network data on Windows 8
Compatibility with some foreign keystrokes
Compatibility with certain keyboard configurations
Compatibility with AuthenTec fingerprint sensors

Fixed

Disabling Novell authentication packages during malware cleanup

Added

Extended blocking of Shell registry changes to HKU keys
---
Version 8.0.2.167 (Released July 31st, 2013)

Fixed

Potentially dropping the first keystroke on localized platforms.
A crash when prompting for an email address on installation on localized OSs.
Compatibility with Google Chrome's nacl64.exe.
General RealTime Shield functionality
Compatibility with the new version of ExploitShield, now part of MalwareBytes.
---
Version 8.0.2.155 (Released June 18th, 2013)

Improved

Performance when installed alongside Citrix environments.

Added

Central management for controlling System Cleaner settings and controls in the online management console.
Heuristics to detect a new AutoCAD virus.

Fixed

Compatibility issues with proxy settings during and after installation.
Incompatibility with ESET's self-protection on Windows 8.
Processing detection configuration option when program launches.
EICAR is now submitted as an executable file to be displayed within the console
---
---
Version 8.0.2.145 (Released May 15th, 2013)
Improved

Compatibility with F5 VPN
Application performance on XenApp servers
Handling of proxy configuration
Compatibility with DiskDirector
Malware cleanup of registry threats
System Analyzer malware detection
Support for virtual machines and cloned environments

Fixed

Removing some detected components of malware on reboot
Updating protection statistic values on XP in SME
Network-level compatibility on terminal servers
Compatibility with Kaseya Agent Internet Access Protection Extension
Triggering of multiple scheduled scans
Browser compatibility with Sandboxie 4.1 beta
Instability in certain SME environments

Added

Automatic proxy detection for SME
---
Version 8.0.2.127 (Released March 27th, 2013)
Improved

Agent shutdown speed
Behavior logging in Windows Event Logs
Kernel keylogger protection
Migration process for Prevx users to SecureAnywhere

Added

A registry value of type DWORD named NoStatistics under HKCU\Software\WRData which, when set to 1, disables the behavior statistics on the status screen

Fixed

An issue with changed settings and local database data on shutdown
Compatibility with Jeeves GARP software
Identifying cloud managed configuration settings

Other
---
Version 8.0.2.118 (Released February 26th, 2013)
Improved

Performance on Windows XP
General System Cleaner functionality
General System Analyzer functionality
General RealTime Shield functionality
In-product messaging regarding Backup & Sync

Added

Agent checks for updates when no user is logged in

Other Changes
---
WEB CONSOLE VERSION 2.0.0.20 - RELEASED FEBRUARY 15, 2013
The latest Web Console update includes a few new features which are detailed below.
NEW – Agent Commands
You can now send Agent Commands from your console to an installed agent. To do so, log in to the
management website
and click
PC Security
, then click the desired PC. A dialog opens that provides license information and the status of previous scans on this device. To issue a command to that PC, click
Commands
, then select a command.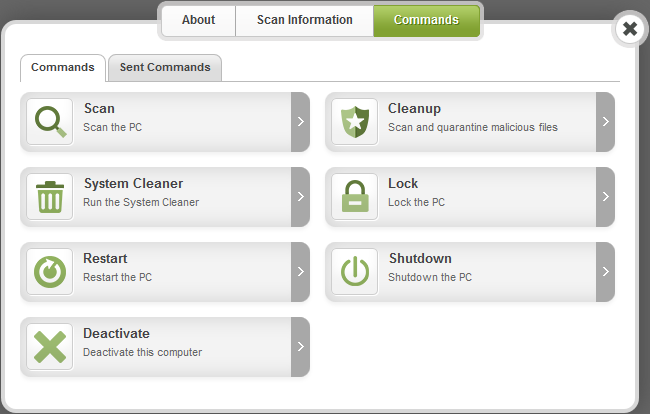 You can view a history of commands to that PC by clicking
Sent Commands
.
Note: The option to Deactivate a PC, formerly under Advanced Options, is now included under Commands. You will still be prompted to confirm any deactivation.


UPDATED – Add A Keycode

When adding a new keycode to an existing console, you will now be prompted to set permissions, when applicable. To add a keycode, log in to the
management website
and open the drop-down menu under your email address and click
Manage Keycodes
. Click
Add Product Keycode
. After adding the desired keycode, if applicable, you may be prompted to manually add permissions for the new keycode.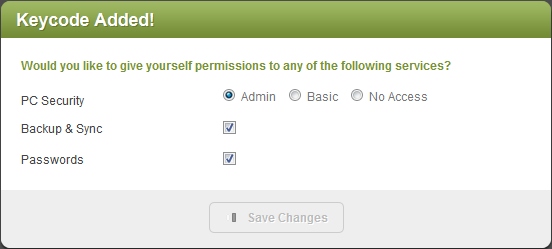 ---
Version 8.0.2.109 (Released February 13th, 2013)
Improved

Compatibility with new Windows XP Updates
---
Version 8.0.2.105 (Released February 12th, 2013)
Improved

Backup & Sync behavior
Cleanup of ZeroAccess
Compatibility with the following 3rd party applications:


Adguard Ads Blocker
CycleServer
Google Video Chat
Instant Text 7 Pro
Keyboard Express
OmniPass password management software
RoboForm2Go
ShortKeys


General compatibility with hotkey applications
Identity Shield behavior
Keylogging protection
Padlock icon behavior
Scan functionality
Scan reporting

Fixed

Issue using Alt+D in Opera with the Identity Shield enabled
Keystroke entry issues on some localized keyboards

Other
---
---
[PC] Version 8.0.2.93 (Released December 18th, 2012)
Improved

Identity Protection compatibility with Firefox
Keylogger protection on Windows 8
Scan functionality

Fixed

Compatibility with Google Toolbar
System Cleaner issue with Pegasus Email configuration files
Issue with "Scan with Webroot" and "Permanently Erase with Webroot" context menu options

Other Changes

Changed Identity Shield padlock back to yellow for visual impairment compliance. Webroot still protects HTTP sites as well as HTTPS
---
---
[PC] Version 8.0.2.79 (Released December 13th, 2012)
Added

Additional logic to address Zero Day threats
Further CAPTCHA logic
Tray icon right-click option to Control Active Processes (Consumer edition only)

Improved

Backup & Sync functionality
Filename normalization
Handling of active threats
Handling of applications running from servers
Handling of DLL scanning on network shares
Identity Shield functionality
Installation functionality
Protection against information stealing threats
Protection against malicious BHOs injected into the browser
Recycle Bin name resolving
Scan functionality

Fixed

Login issue on Windows 8 systems
Firefox support in Windows 8 with Identity Shield
Handling user account switching
Update handling

Other Changes

Changed Identity Shield padlock to green
Webroot now protects HTTP sites as well as HTTPS
Minor UI changes
---
---
[PC] Version 8.0.2.43 (Released November 10th, 2012)
Improved

Compatibility with WildTangent games
Firewall functionality on Windows 8
Handling of registry keys during malware cleanup
Program update process

Added

Enhanced license check functionality

Fixed

A stray crash related to Backup & Sync feature
Pre-install proxy support
Minor bug fixes for user interface
---
[PC] Version 8.0.2.37 (Released November 1st, 2012)
Improved

Password Management installation process
System Cleaner functionality
Backup & Sync functionality
Windows 8 compatibility
Status reporting

Added

Functionality for upcoming release of Password Management toolbar in Google Chrome

Fixed

Issue with Backup & Sync overlay icons
Stray crash involving System Analyzer
---
---
[PC] Version 8.0.2.20 (Released October 7th, 2012)
Added

Additional license logic around Identity Shield and Firewall capabilities

Improved

Antimalware engine improvements to block remote code exploits
Desktop shortcut creation
Functionality on Japanese operating systems
Handling of digital certificates
Handling of terminated scans
Installation experience on localized operating systems
Internal security on localized operating systems
Reduced UI overhead on slower processors
Resolving of cache paths
Subscription handling on Windows 8
System Analyzer functionality
System Cleaner functionality
Trial build installation experience

Fixed

Issue handling Complete edition license keys
Issue in which some shields were disabled due to configuration in Web Console
---
[PC] Version 8.0.2.14 (Released September 23rd, 2012)
Added

More than 6,000 changes across the product
New user experience, scan screens, and pre-install process
New trial license key procedure
Full language support
System Analyzer (Complete Edition Only)
Right-click file erasing in Windows Explorer
More granular control over system cleaner scheduling
Zero Day Shield, USB Shield, and Offline Shield for additional layered protection

Improved

Dramatically reduced system performance overhead
Significant efficacy improvements
Significant cleanup improvements throughout
Windows 8 Support
Compatibility with other security solutions
Chrome Support
System Cleaner strength and identified applications
Infected system file repair
Terminal Server support
Ease of use and simplified configuration options

Fixed

Several fixes from customer reports
Improved stability overall
---
---
---
[PC] Version 8.0.1.229 (Released August 18th, 2012)
Improved

Compatibility with:


Avast
XChat
UltraMon
ConstantGuard ID Vault
Watchdog
Synaptics PS2 keyboard drivers


Multiple performance enhancements, including:


Reduced CPU load with numerous instances of Chrome
Reduced background CPU usage during scan
Uninstall process and performance enhancement
CPU usage when on the status screen
Reduced overhead of background threads while idle
Keyboard responsiveness with Identity Shield
(Business edition only) Increased server process shutdown speed


Significant threat detection and remediation enhancements, including:


CLSID cleanup
Kernel rootkit removal
Heuristic blocking of files with appended data


Context menu scans now support a significantly larger number of files
Windows 8 kernel support
Change journal support on 64-bit OS's
Exception tracking logic
Web Threat Shield blocking behavior
Updating from a previous version
Updated install and update process to prevent invalid paths
Reliability of status screen updates

Added

New language support for:

System Cleaner cleanup for Chrome
Scheduling for System Cleaner
System cleanup of Office 2003, 2007 and 2010 most recently used files list
New threat detections:


M0rpheus
Zeus Trojan
General malicious services


Enhanced zero-day threat prevention and warnings
Cleanup of .exe subkeys
Additional logging of active processes
Help and Support link in tray options
Desktop shortcut after install
(Business edition only) Logging when agent command scans are run

Fixed

Simultaneous initial scans
Caps Lock unexpected behavior on secure sites
Last scan display discrepancies
Context menu scans failure
Scheduled scan on boot up
(Business edition only) Handling of Account Management Website activation
Correct completion of active scans
Duplicate uninstall links
Identifying host file modifications
Scanning of some corrupt files
Duplicate prompts for untrusted program execution
Premature scan completion
Not scanning on battery power

Other changes

Major UI enhancements
Changed international product names to prevent language confusion
Help question mark in upper-right corner of UI now opens support web page
(Business edition only) User response option removed for firewall prompts in centrally managed environment
---
[PC] Version 8.0.1.203 (Released June 30th, 2012)
Improved

General browser compatibility, including:


Internet Explorer 10
Firefox 14 Beta 7
Opera


Windows 8 compatibility
Compatibility with Razer keyboards
Scheduled scan behavior
Parsing of some BIOS structures
Performance during shutdown
Updates via proxy connection
Increased the space available for Sync filenames
Various Identity Shield improvements
Keylogger protection
Cleanup of registry keys
Right-click scanner function
Reliability in monitoring devices
In-memory cleanup of active scripts
(Business edition only) Agent command processing
(Business edition only) Support of terminal servers

Added

Support for Turkish OS
Repair logic for certain CLSIDs
Cleanup for additional leftover BHO keys
Generic removal of malicious scripts
Detection logic for malicious scheduled tasks
General support for command line scanning

Fixed

Compatibility with Avast's page protection
Java/Flash support in Opera 12

Other changes
---
[PC] Version 8.0.1.193 (Released June 6th, 2012)
Improved

Context menu scanning
Cleanup of various items, including firewall settings, authorized applications, and TCP/IP parameters
License check functionality
Remediation of malicious browser hijacks
Rootkit cleanup logic
Handling of registry keys and values
Handling of invalid fonts on XP Embedded
Update handling
(Business edition only) Better performance on servers
(Business edition only) Agent Command overrides on protected applications

Added

Limitations to file upload sizes for Backup & Sync
Repair of infected keyboard class values, phishing filter settings, and proxy settings
Prompts for HOSTS file modification
Parsing of scheduled task parameters
Ability to poll via command line

Fixed

Minor UI modifications
Protected application handling
Compatibility with the Safari database application
Search results annotations when certain proxies are in use

Other changes

Implemented significant new "clone mode" logic for handling virtual machines or duplicated hardware
---
[PC] Version 8.0.1.184 (Released May 16th, 2012)
Added

Foreign language support. The following 11 languages are now supported:


English
Japanese
German
Dutch
French
Spanish
Portuguese
Italian
Russian
Chinese (Traditional & Simplified)
Korean


At this time, this only pertains to the agent and parts of the online account. Backup & Sync and Password Management are currently only available in English and Japanese.

Language selection is made at the time of installation. To change languages, you must uninstall and reinstall SecureAnywhere.

Fixed

Keystroke entry issues with Everquest
Compatibility with nProtect GameGuard
---
[PC] Version 8.0.1.177 (Released May 6th, 2012)
Improved

Handling of shortcuts
Handling of CLSID subkeys
Handling of archives during scans
Compatibility with JAWS Screen Reader
Compatibility with keyboard device interactions
Logging reliability related to malicious web resources and other logging functions

Fixed

A rare crash when plugging in a USB keyboard
Rendering problems caused by missing core system fonts

Other changes

Minor UI modifications
Continued internal work on multi-language support, including installation functions, dispatching web help, etc.
For Endpoint Protection, centrally managed end-users may no longer change System Cleaner configuration
---
[PC] Version 8.0.1.173 (Released April 23rd, 2012)
Improved

Handling of cases where Webroot 7.0 software blocks SecureAnywhere
Handling of partial/incomplete installations
Handling for systems with very high active process ID indexes on installation
Handling cleanup on certain HKCU keys
Handling 32-bit shell image overlay identifiers
Handling of TFS when keyboard filter is in effect
Cleanup handling and logic covering several system locations
Compatibility with legacy Elantech drivers
Compatibility with PhotoDex
Identification of certain system aspects on RAID controllers
System tertiary repair logic
Threat cleanup in certain cases
Agent information for specific Best Buy cases
Detection of unusual configuration settings
Accuracy identifying Safari as the web browser
Repair of threat-damaged system policies
Anti-keylogging performance
Spot obfuscation of registry entries
Malwarebytes scan speeds when SecureAnywhere is installed
Cleanup of Firewall's Open Ports information
CPU use when scanning in the background (reduced)
Frequency of Sync login attempts (reduced)
Browser RAM use when it is active for an extended period of time (significantly reduced)
Messaging regarding reboot into Safe Mode to assist non-administrative users

Added

Threat cleanup logic around more system-essential files
Cleanup for more history locations
Cleanup capability for non-standard IE Cache directories
Numerous additional cleanup options for system cleaner
Automatic correction of invalid configuration profiles
Extra local detections for some specific exploit avenues to improve security
Support for several kinds of credit card scanners (as input devices)
Support for unicode IPM messages
Extra diagnostic information to scan logs
Filenames to certain logging actions to avoid translating from MD5
Several extra cloud functions for the Business version
Automatic handling/repair for cases where Windows gets accidentally or maliciously set to treat SecureAnywhere incorrectly

Fixed

A stray crash in the Sync system
Issues that occurred when shutting down or uninstalling the agent too soon after installing it
A slow-down issue related to Chrome and WSA interaction over an extended period of time
Some issues related to PID reuse
Issues with WebDrive
A logic issue that could cause multiple update packages to download and start simultaneously
A rare issue when loading configuration profiles
An issue that caused the agent to constantly restart and prompt for UAC access
A small problem with showing the Main UI correctly related to UAC

Other changes

Keylogger protection is now fully disabled when Identity Shield is off
Limited User accounts may now make changes to their own system cleaner settings
Invite-Only beta testers now receive their correct beta information
Tertiary temporary files cleaned up as part of threat removal on the initial scan are no longer sent to Quarantine
---
[PC] Version 8.0.1.165 (Released April 3rd, 2012)
Improved

Handling in some situations that can be caused by overzealous security software and infections
Performance accessing NAS drives
Business Agent improvements
System service behavior on Windows XP Embedded
Behavior in cases where certain OS functions are missing

Added

Clarification for cases where the user needs to reboot into Safe Mode with Networking rather than just Safe Mode

Fixed

Compatibility with Shadow Defender
A general issue accessing network shares
Storing the last scan start time
An issue with some corrupt file operations
A rare issue caused by changing proxy settings
An issue handling some stray file read operations
Some failover handling when things are broken

Other changes

Changed "Shut down Webroot" to "Shut down Webroot Protection" to improve clarity
Logs are flushed immediately in some cases for support enhancement
---
[PC] Version 8.0.1.161 (Released March 27th, 2012)
Improved

Cleaning of root files
IE cookie cleaning within Microsoft limitations
Handling of system file journaling
MBR-Scanning on Windows SBS 2011
Self-protection capabilities
Self-healing capabilities
Cleanup of Run/Search data in System Cleaner
Cleanup reliability in odd cases
Numerous Cleanup improvements, especially related to system files and rootkits
Numerous Windows 8 improvements
Numerous substantial Enterprise Agent improvements and additional capabilities
Compatibility with numerous applications

Added

Logic to avoid IE alerts if the cleanup is interrupted
Logging of specific process names when an active file infector is found

Fixed

Properly back out the installation if installed silently to an unsupported OS
An over-protective situation in the Identity Shield adding odd apps as protected
A cosmetic issue with On-Upgrade introduction text
An issue if the agent tries to journal itself
An issue with ADS streams and Spool drivers
An issue which caused the OS to display error messages when opening HTML pages with SecureAnywhere installed
Worked around issues with some outdated/damaged ASUS drivers
An issue that delayed the shutdown of the agent (This corrects numerous symptoms)
Rectified false positive detection of Panda AV

Other changes

Kill Sync process if it gets abandoned to prevent zombie processes
Applied a workaround to Sync causing the OS to deadlock
No longer occasionally ask the user to create their account if an associated account already exists
Avoid archive bombs
---