Overview
Webroot's Mobile Security for Android offers a powerful application that provides malware detection and web-surfing security. Once installed, your Android will have the defense of an industry-leading cyber resilience company. Mobile Security will scan your device and mitigate threats. While shopping and banking online, Webroot keeps your identity and data safe by blocking phishing sites, spam sites, malware sites, and other malicious activities. With the mobile suite of products, the license is transferrable for upgrades or changed devices. To top it off, Webroot provides an amazing support community to help you when needed.
System requirements
The system requirements for Mobile Security for Android can be found here:
https://www.webroot.com/us/en/support/system-requirements
An active internet connection is required to use the app.
Steps to Get Started
Register an account with Mobile Security for Android and start the app.
Run your first security scan and set up protection for Google Chrome.
Step 1: Registering Mobile Security for Android
Launch the Mobile Security for Android app
Install Mobile Security for Android from the Play Store.
Tap the Mobile Security app icon.


Create an account or Log In
Current Users
If you upgraded to the Mobile Security for Android app from a previous version, your keycode was automatically transferred. Tap
Log In
and use your existing credentials.
New Users
A product keycode is required to create an account and activate the app. Please follow the steps below: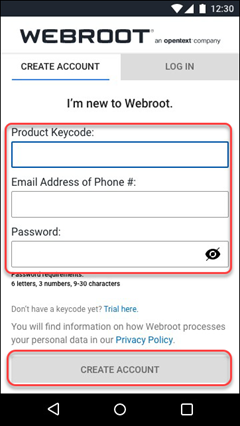 Note: The Create Account button will highlight in blue when all fields have been filled.
Enter your product keycode.It will look similar to this:
WSAM-ZZZZ-0000-YYYY-1111
The keycode is in the receipt email for online purchases, or on a card for retail purchases.
Enter a working email address or phone number. Webroot will only use the phone number as an identifier for your account and to send requested communications – we will not send unsolicited communications to this phone number.
Create a password after reviewing the password requirements listed on the screen.
Click Create Account.
Note: This screen includes a link to Webroot's Privacy Policy. The policy describes how and why Webroot processes and uses personal data that is collected when you visit or use the product.

Accept Subscription Terms
Mobile Security will present the Webroot SecureAnywhere Solution Agreement.
Tap Solution Agreement to review the terms.
Tap the AGREE to continue.
Note: The app will now work unless the terms are agreed to.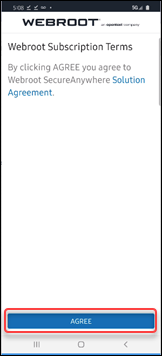 Accept System Permissions
A welcome screen introduces you to Mobile Security for Android. Tap GO.
Android will ask you to allow Mobile Security for Android to access your stored media or apps on the device so that it can do a complete scan to protect the device. Tap Allow.
Note: If you do not allow Mobile Security for Android access, it will have limited protection by scanning only new applications as they are installed.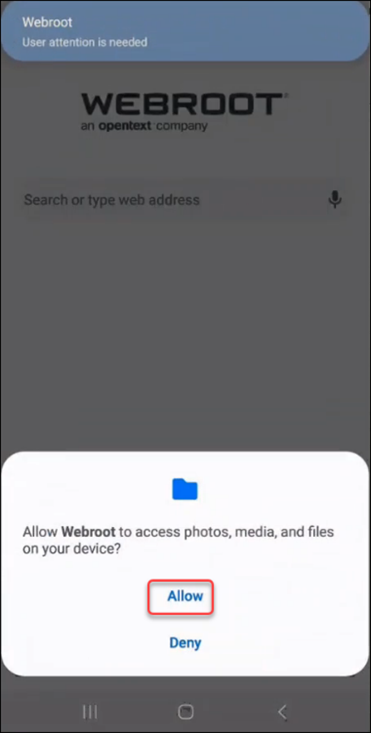 Congratulations!
Registering Webroot Mobile Security for Android and setting up the app is now complete.
Step 2: Run Your First Security Scan and Set Up Protection for Google Chrome
The First Scan
If media permissions were granted to Mobile Security for Android, it will run a first-time scan of the device. Once the scan is complete it will show a status of Safe or Attention Needed.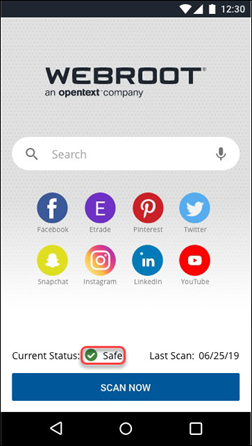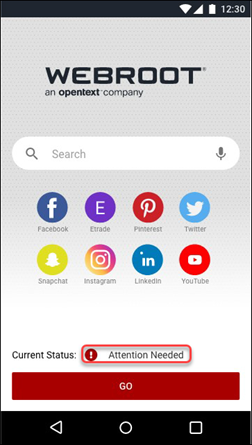 If Attention Needed pops up, follow the instructions under Malware Detected.
If a scan did not automatically run, see Manual Scanning.
Google Chrome™ Browser Security
Once Mobile Security for Android determines the device is safe, it will request permission to protect on Google Chrome.
Start from the notification from the Mobile Security App

To add this protection from the notification:

Open the notification and tap Yes.
Tap Open Settings.

From the Mobile Security for Android app:

Tap the menu button (the "3 dots" icon in the upper right-hand corner).
Tap Settings.

Once in Android's Accessibility settings, locate and tap Mobile Security. The location will vary for phone models. As an example, to browse manually in Android Settings:

Stock Android and many other devices: Settings > Accessibility
Samsung devices: Settings > Accessibility > Installed Services




Tap the toggle to turn Accessibility on.
Tap Allow.
Fantastic!
Protection for Google Chrome and the first scan is now complete. Mobile Security for Android will continuously scan downloaded files and visited websites for malicious behavior. Warnings will appear for known bad sites.